Some updates from events this weekend:
Oh, we so horny. The Boardr staff is split up into two crews today, both at skateboard shindigs where the digital back end is powered by our instant scoring app, The Boardr Live. Porpe and Clements are with one troupe in LA at The Berrics to run adidas Skate Copa and Paul Zitzer and I are in Vancouver for Van Doren Invitational at Hastings. Details are below.
adidas Skate Copa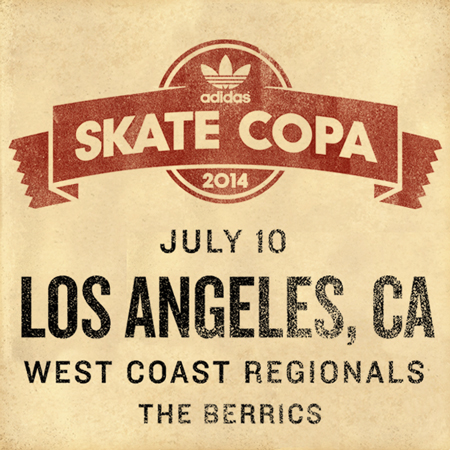 The Skate Copa series ends at this stop in LA with one more Regionals event at 6pm on Thursday to determine the 5th shop that will join the other four who have won the other Qualifiers stops around the country. You can get live and instant scores on the monitors on site or on your phone here.
Friday is the Finals with what is sure to be some of the best skating from shop sponsored skaters you'll ever see all together. This one isn't open to the public so watch for a full edit produced exclusively by The Berrics on their site shortly after the event. Follow along live on the monitors on site.
Van Doren Invitational at Vancouver
The Van Doren Invitational started as a ripping top am and pro bowl jam in Huntington Beach with Vans Canada expanding it to Vancouver. The whole thing is broadcast live on Thrasher's site starting at 2pm on Friday.