The overall results for the year are in after the last stop of 2014 at Bradenton. You have to skate at least two events out of the four for the year to be in the running for an end of the year award, so only those skaters are shown below.
We hope you can join us for the Awards Ceremony on November 22 at our house, The Boardr Headquarters. We'll have a nice session on the new mini ramp along with a video recap and special awards for each Division.
Special Thanks
Before you take a look at the results below, take a look at this list of 32 really special people:Alex Loftus, Autumn Tust, Brandon Delgado, Brody Boggs, Corey Bolo, Dan Booger Brown, Dave Headson, Early Boggs, Eddie Castro, Emily Headson, Harry Fredlund, Haze Miller, Jake Ilardi, Jake Yanko, Jimmy Marcus aka The Greek, Johnny Reidy, Lonny Reiter, Mark Buncy, Mark Carpenter, Meagan Guy, Miles McKinney, Nash Barfield, Nick Wallace, Omar Delgado, Pat Dewitte, Richard Hatten, Scooter Newell, Tab Textor, Titus Massinello, Tony Walsh, Tyler Coffman, and Will Cox.
We would like to thank you all for making it to every single stop this year.
And one more thing, I love numbers and stats, so here's a bunch from GFL for 2014. Thanks again to everyone that was part of this with us!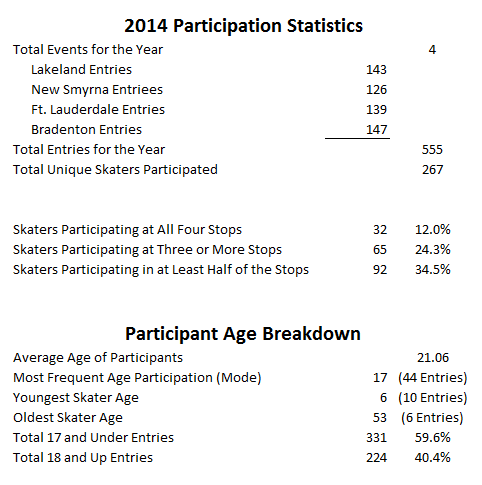 Street 9 and Under Division
| | | | | | | |
| --- | --- | --- | --- | --- | --- | --- |
| Place | Skater | Lakeland | New Smyrna | Ft. Lauderdale | Bradenton | Top 2 Total |
| 1 | | 80.35 | 66.77 | 77.78 | 75.48 | 158.13 |
| 2 | | 0 | 0 | 80.35 | 69.98 | 150.32 |
| 3 | | 78.63 | 53.58 | 68.38 | 62.54 | 147.01 |
| 4 | | 70.56 | 62.76 | 34.37 | 51.7 | 133.32 |
| 5 | | 57.26 | 61.79 | 41.03 | 44.38 | 119.04 |
| 6 | | 68.97 | 0 | 0 | 46.43 | 115.4 |
| 7 | | 63.25 | 32.5 | 36.19 | 50.82 | 114.07 |
| 8 | | 45.85 | 41.54 | 47.67 | 54.68 | 102.35 |
| 9 | | 65.32 | 26.27 | 35.77 | 0 | 101.08 |
| 10 | | 0 | 34.63 | 41.77 | 46.14 | 87.91 |
| 11 | | 0 | 28.87 | 0 | 38.93 | 67.79 |
Street 10 to 12 Division
| | | | | | | |
| --- | --- | --- | --- | --- | --- | --- |
| Place | Skater | Lakeland | New Smyrna | Ft. Lauderdale | Bradenton | Top 2 Total |
| 1 | | 80.8 | 0 | 86.01 | 60.96 | 166.81 |
| 2 | | 56.05 | 0 | 77.7 | 83.68 | 161.38 |
| 3 | | 49.78 | 73.37 | 67.57 | 75.48 | 148.85 |
| 4 | | 60.14 | 0 | 74.67 | 65.7 | 140.37 |
| 5 | | 69.65 | 68.19 | 64.19 | 0 | 137.84 |
| 6 | | 52.27 | 0 | 76.01 | 49.88 | 128.28 |
| 7 | | 58.67 | 0 | 55.92 | 55.63 | 114.59 |
| 8 | | 52.37 | 0 | 59.09 | 0 | 111.46 |
| 9 | | 56.38 | 54.57 | 44.34 | 0 | 110.95 |
| 10 | | 0 | 42.41 | 46.04 | 0 | 88.45 |
Street 13 to 15 Division
| | | | | | | |
| --- | --- | --- | --- | --- | --- | --- |
| Place | Skater | Lakeland | New Smyrna | Ft. Lauderdale | Bradenton | Top 2 Total |
| 1 | | 64.61 | 55.73 | 70.06 | 0 | 134.67 |
| 2 | | 60.88 | 72.39 | 60.7 | 0 | 133.27 |
| 3 | | 61.78 | 52.3 | 68.81 | 0 | 130.59 |
| 4 | | 46.41 | 68.36 | 56.21 | 0 | 124.57 |
| 5 | | 70.07 | 46.66 | 0 | 0 | 116.73 |
| 6 | | 0 | 0 | 70.41 | 39.87 | 110.28 |
| 7 | | 43.39 | 35.4 | 0 | 0 | 78.79 |
| 8 | | 0 | 30.41 | 41.68 | 34.89 | 76.57 |
Street 16 to 29 Division
| | | | | | | |
| --- | --- | --- | --- | --- | --- | --- |
| Place | Skater | Lakeland | New Smyrna | Ft. Lauderdale | Bradenton | Top 2 Total |
| 1 | | 63.31 | 68.33 | 78.85 | 70.68 | 149.53 |
| 2 | | 0 | 0 | 72.17 | 66.75 | 138.92 |
| 3 | | 61.24 | 0 | 0 | 72.32 | 133.56 |
| 4 | | 59.98 | 0 | 39.29 | 54.68 | 114.66 |
Street 30 and Up Division
| | | | | | | |
| --- | --- | --- | --- | --- | --- | --- |
| Place | Skater | Lakeland | New Smyrna | Ft. Lauderdale | Bradenton | Top 2 Total |
| 1 | | 0 | 75.5 | 65.52 | 63.07 | 141.02 |
| 2 | | 68.11 | 54.51 | 0 | 69.45 | 137.55 |
| 3 | | 66.05 | 63.08 | 61.17 | 63.47 | 129.52 |
| 4 | | 54.37 | 50.72 | 0 | 57.85 | 112.22 |
| 5 | | 53.36 | 38.1 | 53.95 | 57.09 | 111.04 |
| 6 | | 54.42 | 41.97 | 0 | 0 | 96.39 |
| 7 | | 42.35 | 37.58 | 0 | 0 | 79.93 |
Street Girls Division
| | | | | | | |
| --- | --- | --- | --- | --- | --- | --- |
| Place | Skater | Lakeland | New Smyrna | Ft. Lauderdale | Bradenton | Top 2 Total |
| 1 | | 62.71 | 74.28 | 89.23 | 68.22 | 163.51 |
| 2 | | 62.19 | 70.14 | 75.06 | 0 | 145.19 |
| 3 | | 69.21 | 0 | 62.15 | 70.09 | 139.3 |
| 4 | | 56.44 | 0 | 75.15 | 0 | 131.6 |
| 5 | | 0 | 68.88 | 50.2 | 0 | 119.08 |
| 6 | | 46.79 | 48.63 | 51 | 40.22 | 99.63 |
Street Sponsored Division
| | | | | | | |
| --- | --- | --- | --- | --- | --- | --- |
| Place | Skater | Lakeland | New Smyrna | Ft. Lauderdale | Bradenton | Top 2 Total |
| 1 | | 61.54 | 77.23 | 77.21 | 91 | 168.23 |
| 2 | | 60.18 | 74.63 | 76.38 | 72.38 | 151.01 |
| 3 | | 61.39 | 67.11 | 78.99 | 25.87 | 146.1 |
| 4 | | 65.83 | 53.76 | 63.25 | 76.28 | 142.11 |
| 5 | | 61.72 | 0 | 79.91 | 0 | 141.63 |
| 6 | | 61.02 | 0 | 0 | 76.2 | 137.22 |
| 7 | | 51.95 | 0 | 0 | 76.24 | 128.19 |
| 8 | | 58.36 | 54 | 49.14 | 68.39 | 126.75 |
| 9 | | 0 | 69.94 | 55.19 | 0 | 125.13 |
| 10 | | 49.79 | 0 | 0 | 58.73 | 108.52 |
| 11 | | 53.61 | 0 | 0 | 47.25 | 100.86 |
| 12 | | 38.28 | 0 | 0 | 46.02 | 84.3 |
Bowl 9 and Under Division
| | | | | | | |
| --- | --- | --- | --- | --- | --- | --- |
| Place | Skater | Lakeland | New Smyrna | Ft. Lauderdale | Bradenton | Top 2 Total |
| 1 | | 0 | 71.02 | 80.08 | 69.68 | 151.1 |
| 2 | | 0 | 57.01 | 68.33 | 69.39 | 137.72 |
| 3 | | 0 | 0 | 60.51 | 67.81 | 128.32 |
| 4 | | 0 | 46.26 | 54.28 | 64.12 | 118.4 |
| 5 | | 0 | 0 | 60.62 | 41.98 | 102.6 |
| 6 | | 0 | 41.41 | 33.97 | 53.34 | 94.75 |
| 7 | | 0 | 0 | 33.53 | 53.16 | 86.69 |
| 8 | | 0 | 34.09 | 36.7 | 40.63 | 77.33 |
Bowl 10 to 12 Division
| | | | | | | |
| --- | --- | --- | --- | --- | --- | --- |
| Place | Skater | Lakeland | New Smyrna | Ft. Lauderdale | Bradenton | Top 2 Total |
| 1 | | 0 | 42.44 | 66.23 | 69.45 | 135.68 |
| 2 | | 0 | 48.39 | 51.11 | 0 | 99.5 |
| 3 | | 0 | 35.14 | 51.99 | 0 | 87.13 |
Bowl Intermediate Division
| | | | | | | |
| --- | --- | --- | --- | --- | --- | --- |
| Place | Skater | Lakeland | New Smyrna | Ft. Lauderdale | Bradenton | Top 2 Total |
| 1 | | 0 | 0 | 72.47 | 72.49 | 144.96 |
| 2 | | 0 | 59.07 | 67.1 | 0 | 126.17 |
| 3 | | 59.11 | 44.42 | 53.1 | 0 | 112.21 |
| 4 | | 54.52 | 0 | 37.35 | 55.1 | 109.62 |
| 5 | | 51.4 | 51.82 | 37.28 | 53.4 | 105.22 |
| 6 | | 45.79 | 0 | 0 | 39.69 | 85.48 |
Bowl Sponsored Division
| | | | | | | |
| --- | --- | --- | --- | --- | --- | --- |
| Place | Skater | Lakeland | New Smyrna | Ft. Lauderdale | Bradenton | Top 2 Total |
| 1 | | 78.5 | 85.5 | 95.78 | 84.11 | 181.28 |
| 2 | | 70.24 | 73.79 | 71.25 | 83.83 | 157.62 |
| 3 | | 71.76 | 77.15 | 76.58 | 0 | 153.73 |
| 4 | | 77.77 | 57.22 | 74.46 | 0 | 152.23 |
| 5 | | 65.71 | 76.01 | 0 | 70.3 | 146.31 |
| 6 | | 72.01 | 60.89 | 68.94 | 74.16 | 146.17 |
| 7 | | 55.98 | 0 | 70.06 | 75.16 | 145.22 |
| 8 | | 68.56 | 73.21 | 0 | 54.66 | 141.77 |
| 9 | | 0 | 60.02 | 47.28 | 81.49 | 141.51 |
| 10 | | 0 | 55.59 | 75.22 | 63.8 | 139.02 |
| 11 | | 0 | 66.88 | 0 | 70.59 | 137.47 |
| 12 | | 62.55 | 62.93 | 0 | 59.99 | 125.48 |
| 13 | | 59.08 | 40.15 | 64.11 | 0 | 123.19 |
| 14 | | 0 | 50.42 | 0 | 71.41 | 121.83 |
| 15 | | 53.49 | 0 | 65.44 | 0 | 118.93 |
| 16 | | 51.08 | 0 | 61.35 | 0 | 112.43 |
Bowl Masters Division
| | | | | | | |
| --- | --- | --- | --- | --- | --- | --- |
| Place | Skater | Lakeland | New Smyrna | Ft. Lauderdale | Bradenton | Top 2 Total |
| 1 | | 0 | 75.18 | 67.71 | 78.06 | 153.24 |
| 2 | | 48.59 | 67.5 | 50.73 | 75.36 | 142.86 |
| 3 | | 63.23 | 0 | 0 | 77.53 | 140.76 |
| 4 | | 53.55 | 55.07 | 71.81 | 66.99 | 138.8 |
| 5 | | 49.16 | 61.79 | 0 | 62.95 | 124.74 |
| 6 | | 51.15 | 0 | 46 | 69.21 | 120.36 |
| 7 | | 51.85 | 46.11 | 54.64 | 0 | 106.49 |
| 8 | | 41.21 | 50.46 | 43.57 | 54.57 | 105.03 |
| 9 | | 45.07 | 45.59 | 45.56 | 0 | 91.15 |
| 10 | | 33.39 | 0 | 0 | 41.16 | 74.55 |
| 11 | | 24.81 | 28.76 | 0 | 40.34 | 69.1 |
| 12 | | 31.12 | 32.09 | 0 | 0 | 63.21 |
Bowl Grand Masters Division
| | | | | | | |
| --- | --- | --- | --- | --- | --- | --- |
| Place | Skater | Lakeland | New Smyrna | Ft. Lauderdale | Bradenton | Top 2 Total |
| 1 | | 62.97 | 58.36 | 65.44 | 72 | 137.44 |
| 2 | | 39.2 | 36.76 | 57.02 | 60.46 | 117.48 |
| 3 | | 20.5 | 52.84 | 0 | 62.57 | 115.41 |
| 4 | | 39.57 | 49.39 | 40.14 | 58.39 | 107.78 |
| 5 | | 51 | 52.65 | 32.64 | 53.99 | 106.64 |
| 6 | | 39.45 | 46.21 | 45.45 | 58.94 | 105.15 |
| 7 | | 43.87 | 34.68 | 0 | 52.72 | 96.59 |
| 8 | | 44.53 | 33.85 | 44.47 | 51.26 | 95.79 |
| 9 | | 45.74 | 37.59 | 29.22 | 0 | 83.33 |
| 10 | | 39.07 | 0 | 33.36 | 0 | 72.43 |
Bowl Girls Division
| | | | | | | |
| --- | --- | --- | --- | --- | --- | --- |
| Place | Skater | Lakeland | New Smyrna | Ft. Lauderdale | Bradenton | Top 2 Total |
| 1 | | 0 | 49.49 | 64.83 | 69.45 | 134.28 |
| 2 | | 0 | 59.02 | 57.44 | 63.54 | 122.56 |
| 3 | | 0 | 32.65 | 41.69 | 56.09 | 97.78 |