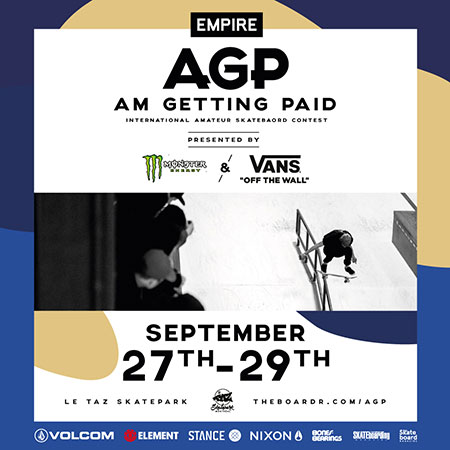 This Event Has Passed
September 27 - 29, 2018
Montreal, Canada
For the second year, Am Getting Paid is hosting The Boardr Am Finals. Winners of each stop at The Boardr Am now get a trip to Montreal and a chance at the $20,000 prize purse here. Full details...
Refunds
Refunds are given if you can't make it, get hurt, or just change your mind. No problems there. Once the event is full, however, then you have a problem! So sign up now before it's too late. Email Help@TheBoardr.com anytime with questions.
Privacy
After your enter this competition, results will be displayed with your basic profile information: Name, Sponsors, Age (if you provide a birthdate), Hometown, and Instagram handle. View all of the profiles in The Boardr skateboarder and BMX database here.