Red Bull Mind the Gap at Charlotte
November 20, 2021
A free and open flat gap contest.
Location
Eastland DIY, 5301 Central Avenue, Charlotte, North Carolina
Waiver
You'll be required to sign a waiver on site.
Schedule
12pm: Registration and Practice
1:30pm: Jam 1

There will be 20 skaters max per Jam

Awards immediately following
Purse
1st - $250

Plus $500 in travel towards Mind the Gap in Atlanta in December

2nd - $150
3rd - $100
Cash for Tricks - $500
Course Photos
A flat gap will be built on site for this one. Photos coming soon...
Flyer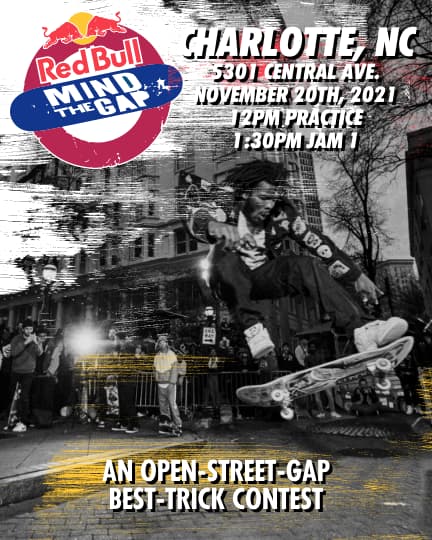 Stay Informed
Twice a month, we send out the best in skateboarding and BMX events.