Location
Nanjing, China, Sports Lab, No.888, Yangtze River Avenue, Jianye District
Divisions
Men's and Women's
Schedule
Wednesday, September 6

11am - 7pm: Registration and Open Practice
2pm - 4pm: Women's Only Practice

Thursday, September 7

10am: Anti-Doping Seminar at the Hilton Nanjing Riverside, 2nd Floor
11am - 7pm: Registration and Open Practice
2pm - 4pm: Women's Only Practice
5pm: Judges' Meeting
6pm: Riders' Meeting

Friday, September 8

11am - 12:30pm: Women's Practice
12:30pm - 2pm: Women's Qualifiers

Event and cut based on participation

2pm - 3:30pm: Men's Practice
3:30pm - 6pm: Men's Qualifiers

Saturday, September 9

11am - 12:30pm: Women's Practice
12:30pm - 2pm: Women's Finals
2pm - 4:30pm: Men's Practice
4:30pm - 6pm: Men's Finals
Awards and Prizing immediately following

Sunday, September 10
Contest Formats
Qualifiers

Heats of eight
10 mins of warm-up between each Heat
Three runs, 30 seconds each, best counts
Top 12 qualify for Finals

Finals

One Heat of 12
Four runs, 30 seconds each, best counts
Prize Purse: $40,000USD
$20,000 each for Men's and Women's.
1st: $5,000, 2nd: $3,000, 3rd: $2,000, 4th: $1,500, 5th: $1,500, 6th: $1,000, 7th: $1,000, 8th: $1,000, 9th: $1,000, 10th: $1,000, 11th: $1,000, 12th: $1,000.
Course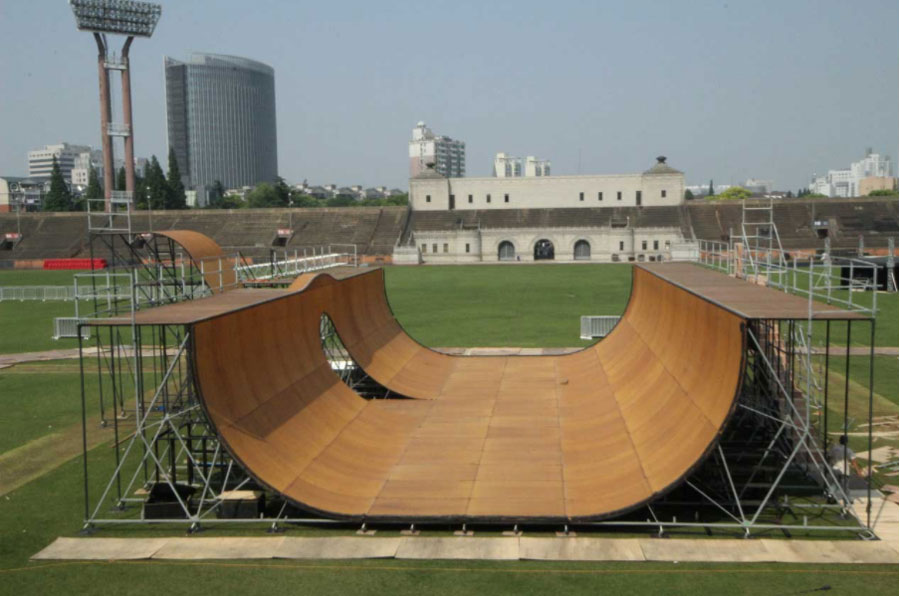 Hotel Info
View nearby hotel info.
Vert World Championships Press Release From FIRS
This communication will provide our international membership with important details about the Skateboarding World Championship held during the Nanjing Roller Games.
The first-ever World Championship titles awarded by FIRS for Skateboarding will be for the discipline of Vert Skateboarding (halfpipe). At the exact location where skateboarding debuted in Nanjing as a part of the SportsLab during the 2014 Youth Olympic Games, a full-size vert ramp will be set up to serve as the "field of play." The massive structure is 21m wide and 4.5m high, made from 22 tons of steel structure with a composite riding surface. This will be the stage for the best female and male vert skateboarders to contest the World Championships of Vert Skateboarding.
The event will unfold over a 4-day schedule beginning on Thursday the 7th of September. Registrations are available for 2 female and 2 male athletes from each member nation. In order to guarantee open and inclusive participation of riders around the world and field a comprehensive list of Vert's elite athletes, FIRS will allocate Wildcards where needed.
Further communication will follow regarding contest format and exact schedule for the event.