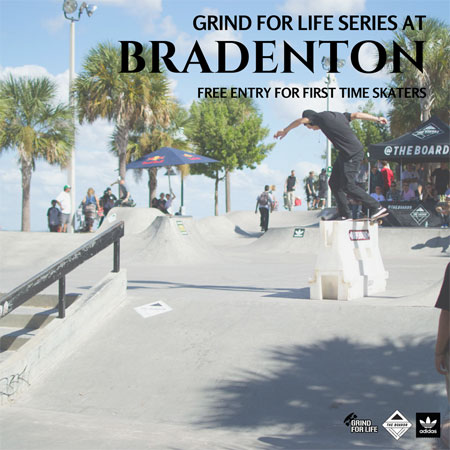 RSVP Now!
Grind for Life Series at Bradenton Presented by adidas
October 1, 2016, This Event Has Passed
Bradenton, Florida
UPDATED DATE IS OCTOBER 1ST!
It's our third year running the Grind for Life Series of all ages and skills skateboarding contests in the southeast. This series leads to the Annual Awards at The Boardr HQ in Tampa with winners of the Sponsored Street Division at each stop getting a spot in The Boardr Am, a top international amateur skateboarding series with the Finals at X Games in Austin.
Location
Bradenton Riverwalk Skatepark, Waterfront Drive, Bradenton, Florida 34205
Waiver Required
Sign your waiver ahead of time here, or get your parent or legal guardian to if you're under 18.
Schedule
Times are approximate, but we try to be as on schedule as possible at each stop. The number of participants can affect these start times, so arrive early for your division.
10am: Street 9 and Under Division: Jams
10:30am: Street 10 to 12 Division: Jams
11am: Street 13 to 15 Division: Jams
11:30am: Street Girls Division: Runs
12pm: Awards Break
12:15pm: Street 16 to 29 Division: Jams
12:45pm: Street 30 and Up Division: Runs
1:15pm: Street Sponsored Division: Jams
1:45pm: Awards Break
2pm: Bowl 9 and Under Division: Jams
2:30pm: Bowl 10 to 12 Division: Jams
3pm: Bowl Intermediate (13 to 39) Division: Jams
3:30pm: Bowl Girls Division: Jams
4pm: Bowl Masters (40 to 49) Division: Jams
4:30pm: Bowl Grand Masters (50 and Up) Division: Jams
5pm: Bowl Sponsored Division: Jams
5:30pm: Awards
Runs format events: 2, 50 second runs, best run counts as your final score.
Street Jams format events: 3 skaters per jam, 3 minutes per jam. Judged on overall impression.
Bowl Jams format events: 8 skaters per jam, 3 runs at 30 seconds each, skate in order until you fall. Judged on overall impression.
Register Now
Save time at check-in and register now online. Refunds are completely okay if you can't make it. Email Rob@TheBoardr.com for a refund.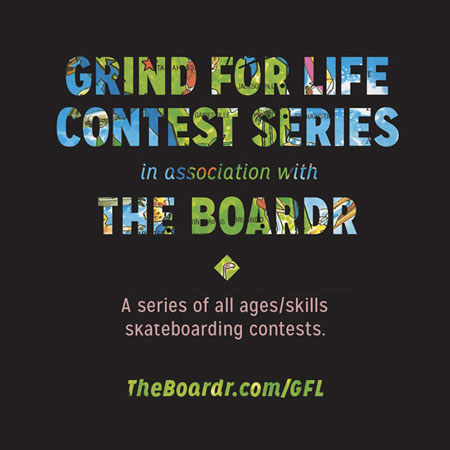 Meet the Event Staff
The Boardr Staff has decades of experience in executing top quality large and small events in our industry. Introduce yourself and hit us up with any questions or help you need.
Coverage of Grind for Life Series at Bradenton Presented by adidas
The Boardr Events List
With headquarters in Tampa, Florida, The Boardr hosts worldwide, top quality skateboarding competitions and events. From coordinating top international contest series like the Vans Pro Skate Park Series, fun and ripping pro contests like Copenhagen Open, to plenty of local events like the Grind for Life Series in Florida (which recently expanded to national), you'll find us in your backyard soon no matter where on the globe you push your wood and wheels.
Upcoming Events
Join Our Mailing List
Hope You Were There: Past Events