It's our third year running the Grind for Life Series of all ages and skills skateboarding contests in the southeast. This series leads to the Annual Awards at The Boardr HQ in Tampa with winners of the Sponsored Street Division at each stop getting a spot in The Boardr Am, a top international amateur skateboarding series with the Finals at X Games in Austin.
Location
Zephyrhills Skatepark, 39096 Alston Ave, Zephyrhills, Florida 33542
Waiver Required
Sign your waiver ahead of time here, or get your parent or legal guardian to if you're under 18.
Free Entry for First Timers
What keeps you from entering a skateboard contest? If it's the cost, we got you for FREE if you've never been to GFL before. The next one is in Zephyrhills on February 13. Yep, if you've never skated one before, we got you covered on your first one. Just show up on site at registration and you're all set. If it's the butterflies, we got you, too. GFL contests are super fun and casual, have divisions for all skaters from beginners to girls to sponsored to dudes older than your dad. You'll make some new friends for sure. I think you're out of excuses now, right? Okay, see you in Zephyrhills!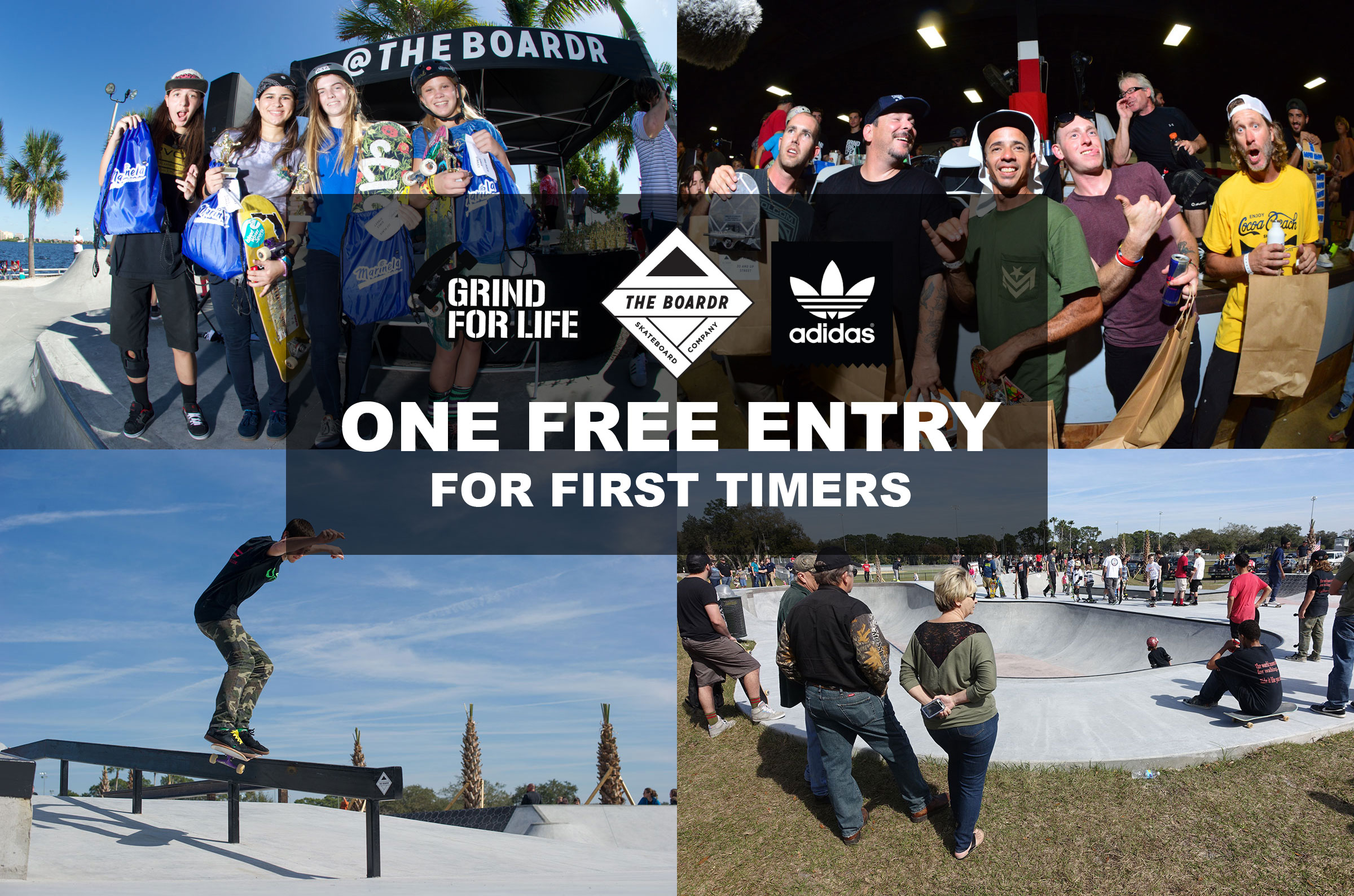 Schedule
Times are approximate, but we try to be as on schedule as possible at each stop. The number of participants can affect these start times, so arrive early for your division.
10am: Street 9 and Under Division: Jams
10:30am: Street 10 to 12 Division: Jams
11am: Street 13 to 15 Division: Jams
11:30am: Street Girls Division: Runs
12pm: Awards Break
12:15pm: Street 16 to 29 Division: Jams
12:45pm: Street 30 and Up Division: Runs
1:15pm: Street Sponsored Division: Jams
1:45pm: Awards Break
2pm: Bowl 9 and Under Division: Jams
2:30pm: Bowl 10 to 12 Division: Jams
3pm: Bowl Intermediate (13 to 39) Division: Jams
3:30pm: Bowl Girls Division: Jams
4pm: Bowl Masters (40 to 49) Division: Jams
4:30pm: Bowl Grand Masters (50 and Up) Division: Jams
5pm: Bowl Sponsored Division: Jams
5:30pm: Awards
Runs format events: 2, 50 second runs, best run counts as your final score.
Street Jams format events: 3 skaters per jam, 3 minutes per jam. Judged on overall impression.
Bowl Jams format events: 8 skaters per jam, 3 runs at 30 seconds each, skate in order until you fall. Judged on overall impression.
Register Now
Save time at check-in and register now online. Refunds are completely okay if you can't make it. Email Rob@TheBoardr.com for a refund.