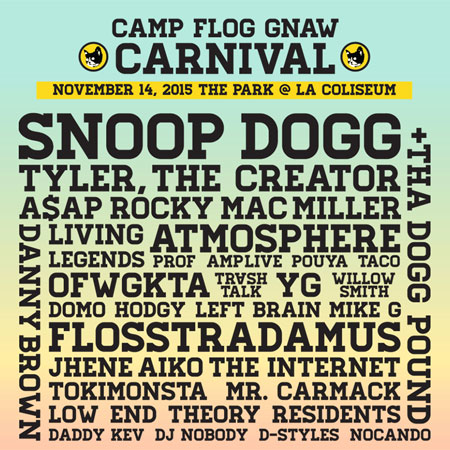 The 4th Annual Camp Flog Gnaw Carnival
November 14, 2015, This Event Has Passed
Los Angeles, CA
Location
Schedule
11am - 2pm: Open Registration and Practice for Invited Skaters
1pm: VIP Doors Open
2pm: General Admission Doors Open
3pm - 3:30pm: Open Best Trick

$1,000 cash for tricks
Three skaters chosen to skate in Invite Only Qualifiers

3:30pm - 4:40pm: Invite Only Qualifiers

Jam format, 3 skaters per Jam
3 minutes per Jam
Top 6 make the cut to the Finals

4:40pm: Finals

Two Jams, 3 skaters per Jam
5 minutes per Jam

4:55pm: Awards
5pm - 10:30pm: Open Skating
Get Social
Use the hashtag
#CFGCarnival
and tag @TheBoardr so we can see a nice summary of all our ripping hip hop skateboard Saturday adventures together.
Registration
Registration isn't required for the Open Best Trick

Anyone with a ticket to the show can bring their board in

For registration questions about the Invite Only event, contact Rob@TheBoardr.com
Waiver
Make sure to fill out the waiver on the link below in order to bring skateboard into the festival.
Purse
1st: $1,250, 2nd: $1,000, 3rd: $750, 4th: $450, 5th: $300, 6th: $250
Extra $1,000 for Open Best Trick.
Coverage of The 4th Annual Camp Flog Gnaw Carnival
The Boardr Events List
With headquarters in Tampa, Florida, The Boardr hosts worldwide, top quality skateboarding competitions and events. From coordinating top international contest series like the Vans Pro Skate Park Series, fun and ripping pro contests like Copenhagen Open, to plenty of local events like the Grind for Life Series in Florida (which recently expanded to national), you'll find us in your backyard soon no matter where on the globe you push your wood and wheels.
Upcoming Events
Join Our Mailing List
Hope You Were There: Past Events