The Grind for Life Series in Association with The Boardr is a Florida series of all ages/skills skateboarding contests benefiting the Grind for Life organization that assists cancer patients with travel expenses. You should pre-register now to save your spot. We are certain that most divisions will fill up. We will do our best to accommodate spots in the more popular divisions that fill up, but space and time are limited.
Location
Waiver Required at this Stop
The Brandon Skatepark is requiring a notarized waiver for every participant at this stop. They will have a notary on site for you. If you want to save some time at check-in by filling in the waiver ahead of time, you can download and print it here.
FULL PADS REQUIRED FOR 12 AND UNDER
Brandon Skatepark also requires full pads for kids under 12-years-old. This means knee pads, elbow pads, and helmets.
Divsion Formats and Schedule
This is the order we're running the events in, along with the breaks for Awards. All times are approximate, but we do try to run things on time. Arrive early for your division so you don't miss it!
10am: Street 9 and Under Division: Runs
10:30am: Street 10 to 12 Division: Jams
11am: Street 13 to 15 Division: Jams
11:30am: Street Girls Division: Runs
12pm: Awards Break
12:15pm: Street 16 to 29 Division: Jams
12:45pm: Street 30 and Up Division: Runs
1:15pm: Street Sponsored Division: Jams
1:45pm: Awards Break
2pm: Bowl 9 and Under Division: Jams
2:30pm: Bowl 10 to 12 Division: Jams
3pm: Bowl Intermediate (13 to 39) Division: Jams
3:30pm: Bowl Girls Division: Jams
4pm: Bowl Masters (40 to 49) Division: Jams
4:30pm: Bowl Grand Masters (50 and Up) Division: Jams
5pm: Bowl Sponsored Division: Jams
5:30pm: Awards
Runs format events: 2, 50 second runs, best run counts as your final score.
Street Jams format events: 3 skaters per jam, 3 minutes per jam. Judged on overall impression.
Bowl Jams format events: 8 skaters per jam, 4 runs at 30 seconds each, skate in order until you fall. Judged on overall impression.
Rain Day
Sunday is the rain day for all GFL events.
Hash It Out
Use the hashtag #grindforlife and follow @grindforlifeorg and @theboardr for updates and coverage on Instagram and Twitter.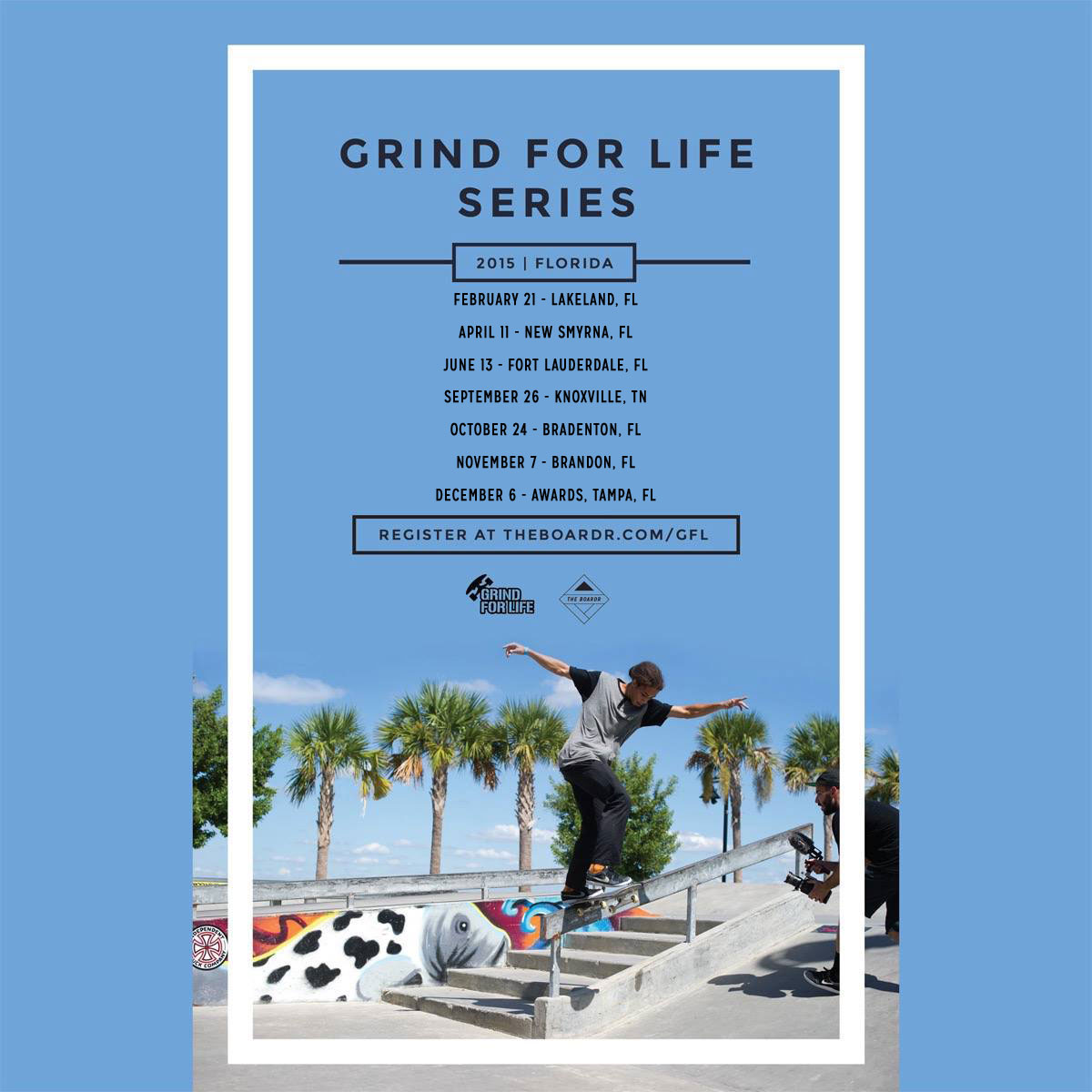 2014 Grind for Life Recaps