Ryan Sheckler worked closely with Red Bull to come up with a fun and unique format for this lines contest in Detroit's Hart Plaza. The invite list includes 22 top pros with spectating open to the public. Hart Lines is also part of the Red Bull Signature Series on NBC. It will broadcast on Saturday, August 1 from 4:30 - 6pm EST.
Location
Hart Plaza, Detroit, Michigan
Get Social
Follow @RedBullDET and @TheBoardr for updates and use the hashtag #HartLines.
Course Tour
Schedule and Format
Wednesday, May 6

Venue closed to public
12pm - 5pm: Registration and Practice

Thursday, May 7

Venue closed to public
12pm - 5pm: Registration and Practice
3pm: Contest Rehearsal
5pm: Riders' Meeting
7pm: Launch Party

RBHOA Air Gallery, 1551 Winder Street

Friday, May 8

10am - 1pm: Practice
12pm: Venue opens to public
1pm: Qualifiers

Skaters broken into two heats
Three runs

1st run - Lane 1
2nd run - Lane 2
3rd run - Skater's choice

Order of skating:

Heat 1, Lane 1
Heat 1, Lane 2
Heat 1, Choice of Lanes
Heat 2, Lane 1
Heat 2, Lane 2
Heat 2, Choice of Lanes

Top seven qualify for Finals - rest go to Last Chance Qualifier
Skate in forward direction, no stopping or redos
Each obstacle in each Lane may only be hit once in each Run
Top score from Lane 1 and Lane 2 averaged to determine final score
Strategy: When it comes time to choose a Lane for Run 3, it's best to choose the Lane in which you have the lowest score
Each run is timed

Associated time from highest scored Run will be used to calculate overall placing
Placing in terms of time is subtracted from best Run score to determine overall placing
Maximum time penalty deduction is 10
Example: If average of Lane 1 and Lane 2 is 79 and skater is the 3rd fastest clocked time in his highest scoring run, the final score for overall placing is 79 minus 3 = 76

Skaters not making Finals go to Last Chance Qualifier for one final Run

Lane of skater's choice
Top skater advances to Finals
Same format as above

Saturday, May 9

9am - 11am: Practice
10am: Venue opens to public
11am: Finals

Skaters will ride in reverse order from Qualifier placings
Three runs, one heat
Same format as above

9pm: Official After Party

Exodos Rooftop, 525 Monroe Street

Sunday, May 10
Sample Scoring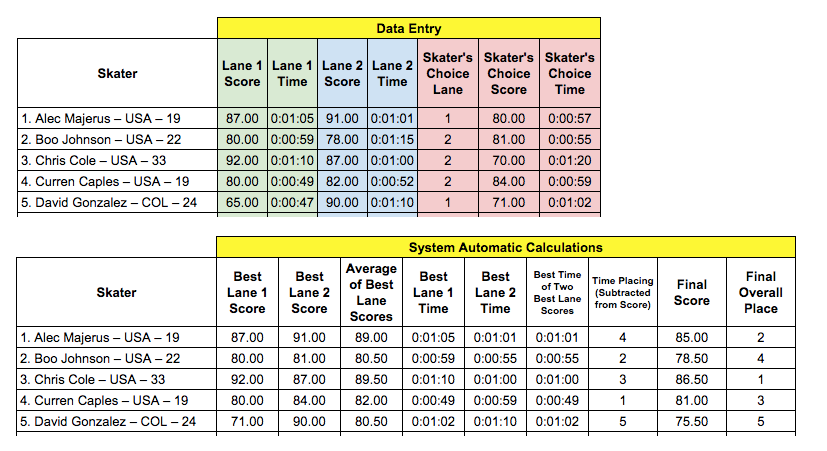 Judging Criteria
Skater will be judged on overall impression, which consists of style, trick selection, difficulty and sequence of tricks, risks taken, and usage of obstacles, with a small emphasis on speed of completion of course.