The Boardr Am is a top amateur skateboarding series. Winners at each stop are flown to the Finals at X Games Austin to meet six other specially invited ams. A one hour show on ESPN's World of X produced by The Boardr will document the skaters' stories of the road to Austin, Texas.
Qualifiers Jams
Check the full list of skaters and live results for the Qualifiers. The monitor on the side of the #BoardrBus will also have live updates as scores come in and Jams get updated.
Location Changed to Stoner Skate Plaza
Due to gub'ment permitting issues at Sheldon, the new site for The Boardr Am Los Angeles is Stoner Skatepark. The date and full schedule have not changed at all!
Hotels in the Area
The Boardr Bus RV needs serious parking room, so we have to get a hotel pretty far out, but here are some nearby Stoner that would work.
Travelodge Santa Monica
3102 Pico Boulevard
Santa Monica, CA 90405
$135 a night
Best Western Royal Palace Inn & Suites
2528 South Sepulveda Boulevard
Los Angeles, CA 90064
$156 a night
Holiday Inn Express West Los Angeles
11250 Santa Monica Boulevard
Los Angeles, CA 90025
$151 a night
Days Inn Santa Monica/Los Angeles
3007 Santa Monica Boulevard
Santa Monica, CA 90404
$135 a night
Registration
Register Online Now
Register now for this stop before limited spots fill up.
Schedule
The schedule at every stop for The Boardr Am is the same. Just so you know, we run things on time.
FRIDAY

12pm - 5pm: Registration, Practice, Check-In

SATURDAY

9am - 11am: Registration, Check-In
10am: Park opens for practice
11am: Qualifiers in Jam Format

Three skater jams, three minutes each
Top 18 make the cut to the Semi-Finals

2pm: Semi-Finals in Jam Format

Three skater jams, three minutes each
Top six make the cut to the Finals

2:45pm: Finals in Runs Format

Three, one minute runs, best counts

3:30pm: Awards

Winner gets all expenses paid to compete in The Boardr Am Series Finals at X Games Austin

4pm: Best Trick open to everyone - $250 cash

SUNDAY
Questions about format? Click here to see details on Jams vs Runs format.
Hash It Out
Use the hashtag #TheBoardrAm and follow @theboardr for updates and coverage on Instagram and Twitter.
Insta That
Help us spread the word about The Boardr Am on Insta and Twitter, thanks!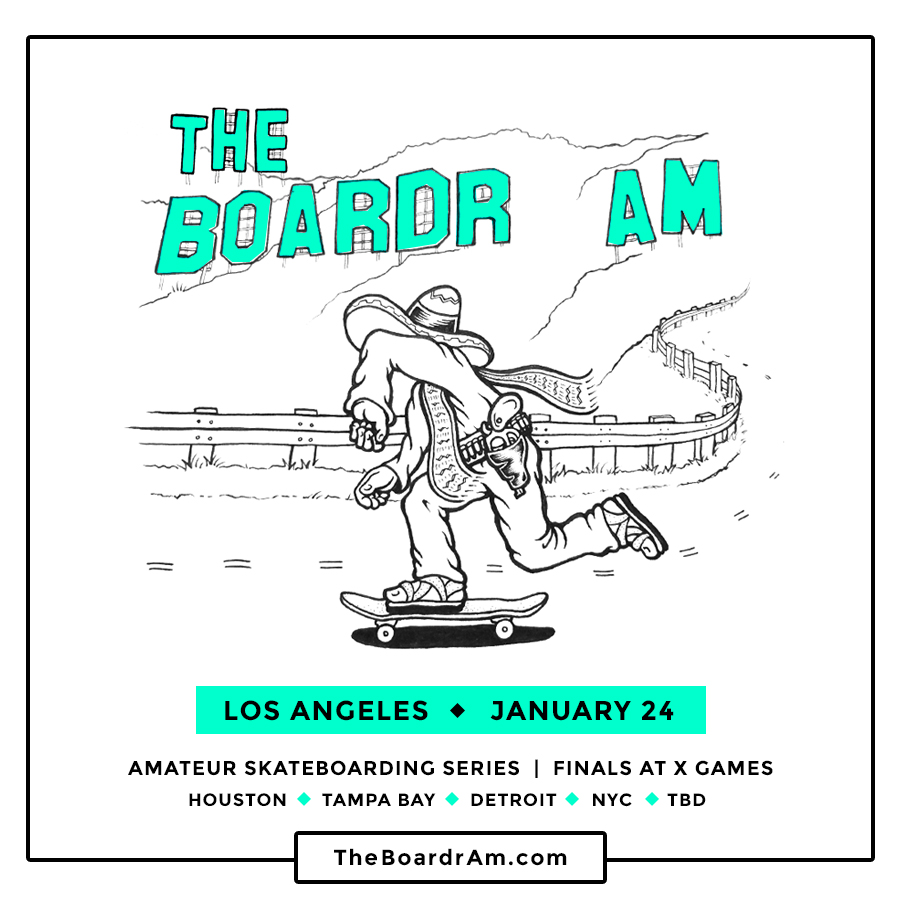 It Was Austyn Gillette's Idea
We had a good time making this video announcing The Boardr Am with Austyn Gillette. Thanks for watching.