Join us at The Boardr HQ for a recap of all the Grind for Life events, awards for overall winners in each division, a session in our facility, and more.
Location
The Boardr HQ, 4611 North Hale Avenue, Tampa, Florida 33614.
$10 donation at the door. 5 and under free.
Waiver to Skate
Save some time and get a waiver signed ahead of time online. You need one to skate. Thanks!
Special Guests
We've got special guests PLG, Jimmy Wilkins, Elliot Sloan, Andy Mac, and Alex Sorgente coming this year! Autographs and a nice mini-ramp session with some of your favorite vert pros will go down as we recognize the top participants and special awards for the year. I hope you can join us at our home base in Tampa for this one. Check the Divisions rankings for the year right here.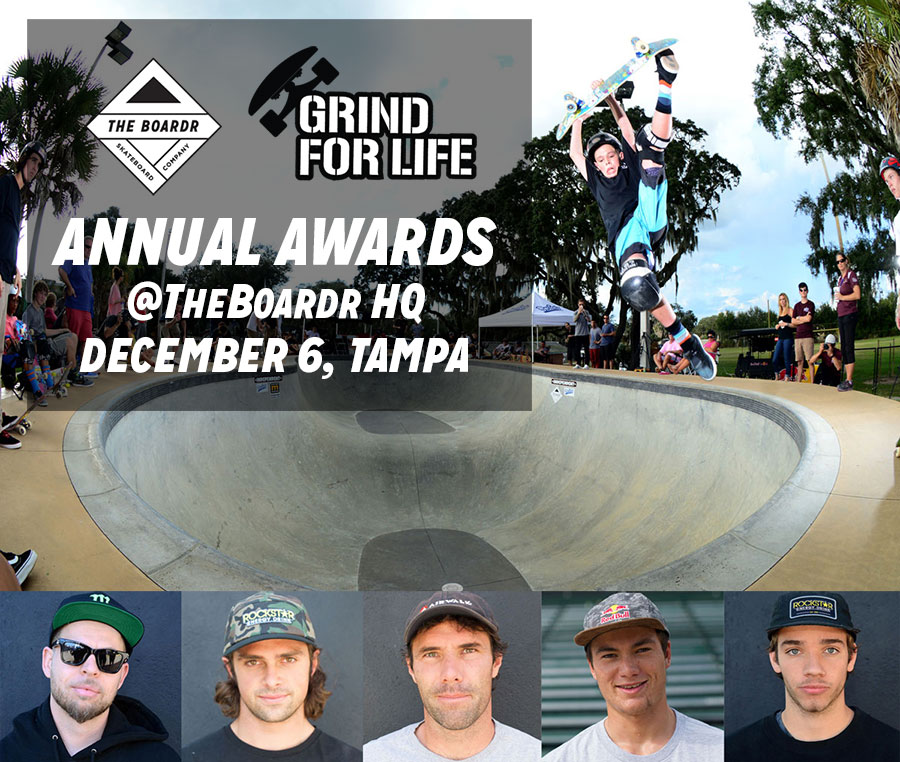 2015 Standings
Check TheBoardr.com/GFL to see the standings in each division.
Schedule
10am: Doors Open
11am: Meet & Greet/Autographs with Pierre Luc Gagnon, Andy MacDonald, Jimmy Wilkins, Elliot Sloan, and Alex Sorgente
12pm: Contests begin

Game of SKATE

12 and Under – limited to 32 entrants
13 and Up – limited to 32 entrants

Grind for Life Raffle
Jump Ramp – five skater jams, three minutes each

2:30pm: GFL Year End Video Recap
Awards Ceremony for 14 Divisions
Awards Ceremony for Special Awards
Grind for Life Raffle
Live Music with The Bell Ringers